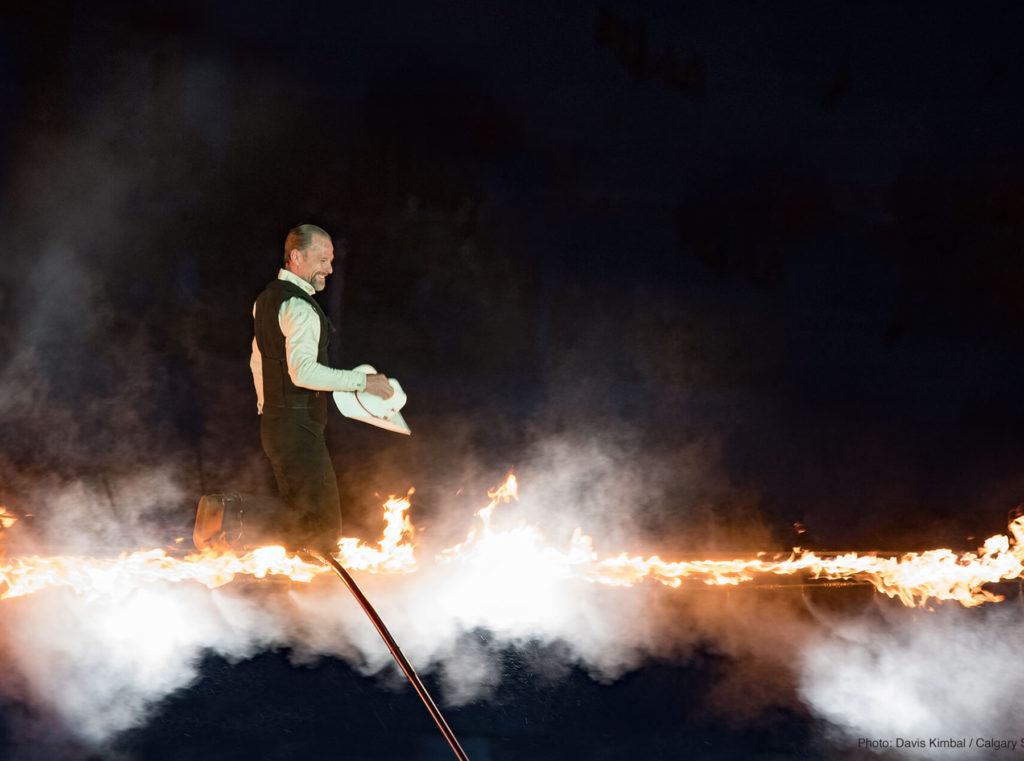 Jade Kindar-Martin
Jade Kindar-Martin is a world renowned high-wire walker, or "funambule" with 25 years of experience and a few world records under his belt. He is the only one to perform a daredevil walk on a fully controlled wire on fire that he calls "Fire-Wire".
The sky is his only limit. He grew up in Vermont, and attended world renowned  Circus Smirkus.  
At the age of 18 he attended the National School of Circus Arts in Montreal. Determined to learn the true art of "Funambule", Jade moved to France to study with 8th generation  master Rudy Omankowsky Jr.
In 1997, Jade established his first world record, crossing the River Thames with his partner Didier Pasquette.  
In 1999, Jade joined Cirque du Soleil where he performed over 1700 shows over the course of four years.
In 2002, with the help of his, then girlfriend, Karine Mauffrey, Jade pulled what is called a "coup" and set up overnight an illegal walk between the towers of the Notre Dame basilica in Montreal. This was not the first time Jade pulled this kind of stunt. In 1996, he performed such a stunt on the St Sulpice cathedral in Paris, France.
In 2003,  Tino Wallenda called him to perform the famous 7 man pyramid with his family, which he did for the following 3 years. Their pyramid never fell (to not be confused with the pyramid done by Nik Wallenda and friends).
In 2004, Jade and Karine got married as the high-wire tradition calls… on a high-wire, in the park of Karine's hometown castle in Chantilly, France, on June 26th.
In 2007,  he got granted his second world record running across a 1km long wire over the Han river in Seoul during the first ever high-wire walking world championship.
in 2010, he was requested by the sultan of Oman himself to perform, with his wife, at the opening ceremony of the Royal Equestrian and Camel Show.
The newest record Jade has set on the wire is to be the first to ever walk on a 100ft long cable entirely set on fire. This new one-of-a-kind performance was created in 2013 in Burning Man. Since then, "Fire-Wire" has become his most wanted performance. 
In 2014, Jade stunt doubled Joseph Gordon Levitt in the IMAX movie "The Walk" by Robert Zemeckis which reenacts the illegal wire walk by Philippe Petit between the twins towers in 1974.
Since 2015, Jade collaborates with Cirque Bijou to produce a high quality show which has been performed in the most reputable  festivals of England, featuring his newest and most daring performance walking on a fully flaming wire.
In 2016 and 2017, his "Fire-Wire" was also featured at the Calgary Stampede in front of hundred of thousands of people.
In 2018, it's at the opening ceremony of the prestigious World Cup, horse racing event, that Jade performed his fire walk under the umbrella of the 45 Degrees special events company.
Jade and Karine split their lives between southern France where they are raising their three kids, and restoring a 300 year old farmhouse named Mas Pinet which they turned into an artistic learning community center; their bus in Los Angeles where they balance their family career in the movie industry as actors and stunt performers while, of course, continuing to perform around the world.
Jade is always looking to perform bigger shows, longer and higher walks in the most beautiful and daring places in the world. The sky is the limit. 
Dare him !  😉        (email Jade for a full resume…)